I don't know about y'all, but time is different for me since the pandemic started. Chloé here, and between working from home, seeing few people in person, and a constant feeling that I might need to fight or fly at most any moment – the days and hours are blurring together in new ways.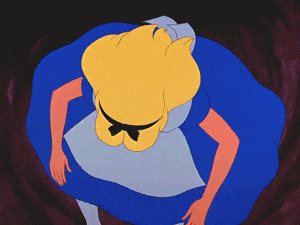 Things feel upside down lately. | Gif by Giphy
It's nice to be reminded that time is a construct, and if I want to eat breakfast at midnight, that's perfectly fine. I won't be bound by imaginary rules! 🤣 But it also means months are zooming by, and if you ask me what day it is, I might not know.   
So, as we head into July, let's take a look back and some of June's highlights. 👇
Top conversations
○ Everything you need to know about Chattanooga, TN's Aug. 6 election
Tennessee primaries and the county general election are scheduled for Aug. 6 + our guide gives you details on how to register to vote, absentee ballots + the candidates. 
○ 20+ local black-owned businesses
It's always a good time to support local, black-owned businesses, and we created this list after readers asked us to do the round up, as protests for racial equality spread across the country, including in Chattanooga.
○ The Ed Johnson Memorial approved for construction at Chattanooga's Walnut Street Bridge
The memorial, which will be in the Walnut Plaza, has been approved by the Chattanooga City Council — work is expected to start next month on the $850k project. Ed Johnson was a black man who was lynched on the Walnut Street Bridge after he was accused of raping a young white woman. Johnson maintained his innocence and he was granted an appeal by the Supreme Court, but he was dragged out of his cell and murdered by a mob before that could happen. Read more here.
Top clicked links 
○ Hundreds of you clicked this Unclaimed Baggage link because you can now shop online for special finds left behind in lost airport bags. 
○ Readers also had to see this NewsChannel 9 article about a 103-pound catfish. Whoa. 
Top comments 
○ On the post about a local company and its employees being featured on CBS:
"We were proud and honored to represent the industry and Chattanooga. Thank you for sharing!" – Covenant Transport 
○ On the post about our Q&A with Chattanooga Urban League president + CEO:
"It has been amazing watching the city come together." – @jenniferedge