This month, the city will celebrate its annual Startup Week Chattanooga, which is a showcase of all cool things entrepreneurial. 
Chloé here, and I've had the privilege of covering every Startup Week here so far, and this year's schedule just came out, so I'm excited to help guide you through this year's celebration.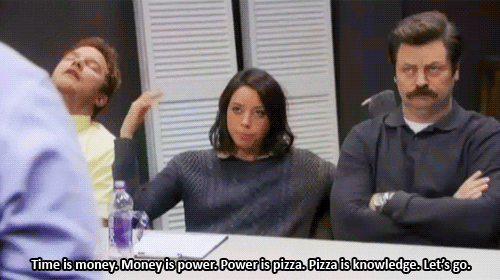 Power is pizza, y'all. | Gif by Giphy 
First things first
📅 Mark your calendars — Startup Week Chattanooga is happening Oct. 19-23.
📱 You can find the entire schedule here (after you put in your contact information).
🖥️ Usually, in-person events are spread throughout the city, but — you know, COVID-19 — so, this year, it's all virtual. 
ProTip: The one challenge I've always had with Startup Week is a good one to have — there are so. many. events. So, look at this year's virtual experience as an opportunity to attend more than you might usually. 🙌 
Startup Awards 
One of the highlights of the week is the Startup Awards, for which nominations are open now.  
Nominations for the Startup Awards are now open. Head to https://t.co/Iix5HLZvOI to read up on the categories and make your nominations.

(P.S. You have until Monday, October 5th to make your nominations, so don't delay!) #startupweekcha #chastartupawards pic.twitter.com/UAdIt3VNkn

— Startup Week CHA (@startupweekcha) September 30, 2020
The categories are: 
Startup of the Year — honors forward-facing, problem solving, inspiring startups that embody the innovative spirit.
The Company Lab's High Growth — celebrates a founder who has taken the entrepreneurial journey head-on, attracted capital, demonstrated success. 
INCubator's Goldfinch of the Year — honors clients of the business incubator who have excelled and implemented innovative designs + growth strategies.
Launch Cha's Micro Business of the Year — celebrates the LAUNCH entrepreneur with fewer than five employees who has worked and persevered, despite the challenges.
Society of Work's Coworker of the Year — honors the person or org who is a positive force in the Society of Work community + beyond
Charlie E. Brock Ecosystem Builder of the Year — dedicated to the person who encouraged collaboration between organizations + shows selfless dedication to making Chattanooga stronger, more inclusive 
Enterprise Center/Tech Goes Home Volunteer of the Year — honors individuals for their commitment to outstanding volunteerism and making a difference for startups and organizations 
Chloé's picks 
It pains me to have to pick only a handful because I know how much work goes into each event. So, use this as a starting point, but there's usually something for everyone, so peep that schedule + keep it bookmarked. Note: Registration is required for some events.