Good Friday morning, lovelies. Chloé here, and I'm thankful + proud that we've been bringing you coverage of the protests, the unprecedented turnout at City Council, COVID-19, and other important news.
But we also hear you when you say you need a break from the hard news, and we've been getting questions from readers who are ready to venture back out into the real world or who are still looking to participate in events virtually.
So, we are rounded up a few opportunities.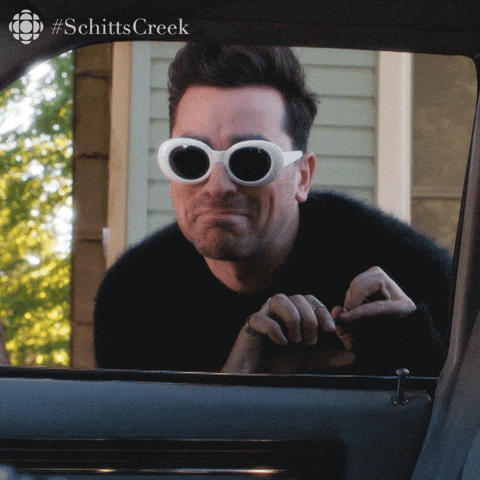 We know some of y'all can't wait for these events. | Gif by Giphy
As always, my hypochondriac, anxious self feels compelled to remind you to be safe when you go out and follow CDC recommendations of wearing masks and washing your hands.
POMKT Summer Camp | June-August | Varying times | Virtual | $55-$150 | Summer at home gets a little more exciting with this virtual camp. You can purchase access to camp classes for a month, or get access to the whole summer. You'll experience activities like yoga, happy hour, painting, terrarium-making + more.
Nightfall Music Series | June 12 | 7-8 p.m. | Virtual | Free | This summer concert will feature Mojo Whiskey as the opening act and J + The Causeways as headliner. You can access the show via Facebook + Youtube.
Nathan Bell's Backyard Barking Benefit | June 13 | 7 p.m. | Barking Legs Theatre Backyard, 1307 Dodds Ave. | $25 | Bring your lawnchair to hear Nathan Bell perform live in the backyard at Barking Legs Theatre to benefit the closed theatre at this time. (Heads up: you must wear a facemask to the show).
Chattanooga Essentials Market | June 14 | 10 a.m.-2 p.m. | First Horizon Building, 1829 Reggie White Blvd. | Free entry | The Chattanooga Market has reopened for essentials only, with vendors like Apison Creek Coffee, Bluff View Bakery, Ocoee Creamery + more.
Live Trivia with Eddy | June 16 | 7-9 p.m. | The FEED co. Table & Tavern, 201 W Main St. | Grab a drink + brush up on your trivia skills to participate in Trivia with Eddy, now live again at the FEED co.
Juneteenth Commemoration | June 19 | 7-8:30 p.m. | Walnut Street Bridge, south end | Free | This annual Juneteenth Independence Day will include a flags presentation and an open mic for artists to perform relevant music, poems, and spoken word pieces.
World Refugee Day Celebration: Together at Home | June 20 | 12 p.m. | Virtual | $0-$25 | Celebrate World Refugee Day virtually this year + learn more about local diversity and contributions refugees make. Buy a home celebration kit with dish recipes, treats from local ethnic groceries, henna tattoo supplies + more. You can also pre-purchase some Iraqi cuisine from Jinan's Kitchen as they partner with Bridge Refugee Services.
The Socks and Undies Comedy Show | June 20 | 7 p.m. | Mayo's Bar and Grille, 3820 Brainerd Rd. | Clothing Donations | Pay for this comedy show by bringing in your undergarments to donate to the homeless + enjoy the laughs.
Make Music Day Events | June 21 | Varying Times | Virtual | Free | Make Music Day is a worldwide celebration of music, and you can access several virtual local music events throughout the day like a kazoo workshop, ukulele workshop + a digital dance party.
Poll