By Brianna Williams
With only a couple of days left until Halloween and to kick off the macabre mood, we're sharing some of the most haunted spots + terrifying tales around Chattanooga.
Read on… if you dare.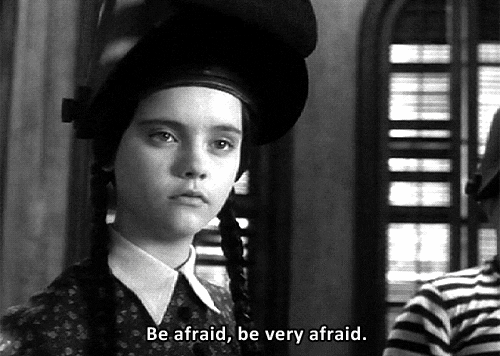 Gif by Giphy
The Read House, downtown's beautiful + historic hotel that has temporarily housed presidents and celebrities passing through town, also has a pretty spooky tale behind it (or inside of it, rather). Room 311 of the hotel is said to be haunted by the ghost of Annalisa Netherly, who was allegedly found almost beheaded in the bathroom, supposedly by a lover, during her stay at the Read House. The hotel has even restored the room to "make Annalisa Netherly more comfortable," with antique decor and no modern amenities. When these renovations started, construction workers were unable to open the door to room 311 by a key or by force, and eventually had to saw an opening in the door to enter — workers were easily able to enter every other room in the hotel. Two pipes in the room also randomly burst in the middle of the night during construction.
Founded in 1959, the abandoned South Pittsburg Municipal Hospital is now a paranormal research center and offers tours + overnight stays at the hospital. As a paranormal research center, the hospital's Facebook page stays updated with strange videos and photos with captions encouraging followers to help debunk or prove the paranormal activity. Former employees of the hospital claim that inanimate objects like wheelchairs and hospital beds would move on their own and that dark shadows roamed the halls, and there are three well-known ghosts that apparently inhabit the hospital — a 7-foot-tall ghost who tells the living to get out, a female nurse ghost, and a child spirit referred to as Buddy. Take a visit to experience "the most haunted place in Tennessee" on Halloween here.
With the historic battlefield comes many tales of ghosts and hauntings. The most well-known haunting on the site is known as "Green Eyes," a half-man, half-monster creature whose appearance was reported before, during, and after the Battle of Chickamauga. Some claim that this version of Green Eyes comes from a Native American legend, while others believe that Green Eyes came after the war and is just a soldier whose head was blown off in battle, spending his days searching for it amongst the battlefield.
Hales Bar Dam was originally the first hydroelectric dam built on a navigable river in the world but quickly began to leak after completion due to its soft bedrock foundation. The land that was once owned by a Cherokee tribe is known for being cursed after their land was taken from them. According to the stories, one worker of the dam was shot and killed by an unknown gunman, another fell from a rock crusher, more fatalities came during a boiler explosion, and several other deaths and murders continued to occur on the cursed site. In 2017, paranormal investigators recorded evidence of paranormal activity in the dam including a voice recording and video recording. Now, you can visit the haunted spot through the new "6 Fears Hell's Bar Dam."
Last year, the Chattanooga Chamber put out a call for spooky stories and found that the INCubator in the Hamilton County Business Development Center has had its own apparition — a woman wearing a white flowing dress. After renovations of the building, the spirit seemed to move on. You can read more here.
The Chamber of Commerce also directed us to this spooky spot. Employees of the downtown building on Market Street have reported unusual activity from strange, unexplained noises to sightings of a "blurry cloud' at the end of the hallway. Eek! Read more here.
Prefer to be spooked by something you know for sure isn't real? Check out these local haunted houses for an equally creepy, but less historically haunted fright.
🕷️ Dread Hollow | Thurs.+ Sun., 7-10 p.m.; Fri. + Sat., 7-11 p.m. | 321 Browns Ferry Rd. | $25 | Ranked a top 5 must-see haunt in Tennessee by TheScareFactor.com, Dread Hollow isn't for the faint of heart (In fact, the scare is not recommended for children under 12). Timed-entry reservations + face masks are required this year.
🕷️ The Haunted Barn | Fri. + Sat. 7 p.m.-12 a.m. | 5017 McDonald Rd, McDonald | $20 at the door | Chattanooga's longest-running haunted attraction, the Haunted Barn features concessions, a live DJ, and more to keep you entertained while you wait to enter the barn.
🕷️ The Haunted Hilltop | Fri. + Sat., 7 p.m.-1 a.m. | 8235 TN-58, Harrison | $20, online or at the door | A $20 ticket will give you access to the hilltop's haunted house and haunted hayride through the woods.
🕷️Poll